Penn Quarter Condos for sale DC Foreclosures
This is a summary of Penn Quarter condos for sale in Washington DC including foreclosures and short sales. Penn Quarter condos in DC and Washington DC homes for sale have been a whirlwind of redevelopment the past 5 years.  Some neighborhoods with negative reputations have become transformed into ultra-hip villages where one can hardly squeeze in with $300,000 for a one bedroom condo.  Large portions of DC, often blocks long and no longer recognizable as many blocks of Washington DC have been torn down and replaced with many brand new buildings.   This has been going on for several years and the question is what is driving Penn Quarter real estate to appreciate and be revitalized?  The answer is jobs, jobs, jobs. Just in the first 2 months of the 3rd quarter of 2005, nearly 10,000 jobs were added to the payrolls of Washington DC real estate.  The unemployment rate for DC fell to 5.9% in the 4th quarter of 2005.
Many people interested in the neighborhood are also open to Chinatown condos.
More recently in 2006 the median sold price for Washington DC home prices decreased 3% since the 2005 peak.  And in 2007 the latest data is illustrated by the graph:
Median sold price went down another couple of percent in 2007, but more DC transactions occurred than in 2006.  Judging from the March value of no change in median sales price the market may have bottomed out and is holding steady.  Time will tell.  The local real estate market will continue to remain strong due to job growth, although the days of rapid appreciation are over.  Kudos to those who got in early enough to capitalize in some of the on the edge neighborhoods that have now been transformed.  To a large degree these risk takes helped revitalize large sections of  MLS Washington DC.  Dupont Circle is also a "hot" neighborhood, but most of the new construction ultra modern condos have been constructed in the U Street Corridor condos, Old City #1, Penn Quarter condos, Logan Circle condos and Columbia Heights.
Columbia Heights in  DC went up 22.68% from last year.  Will these trends last?  Read my article on my observations on the market and 2006.  If you need an excellent real estate agent Washington DC, then you're in the right place.
DC area is a dynamic & thriving area that is literally the capitol of the world.  I always say the whole world is right here.  It may be the most diverse city in the world along with New York City.  Any type of ethnic food is here.  The intense transformation of much of Washington DC real estate with revitalized neighborhoods is exciting.  The new stadium in the District of Columbia for the new baseball team the Nationals, figures to bring in $200,000,000 per year in revenue which will continue this trend.  If you want a good real estate agent Washington DC, then take advantage of the professionalism of Remax Washington DC.  For random photos of condos in DC try Flickr.com for Washington DC condos.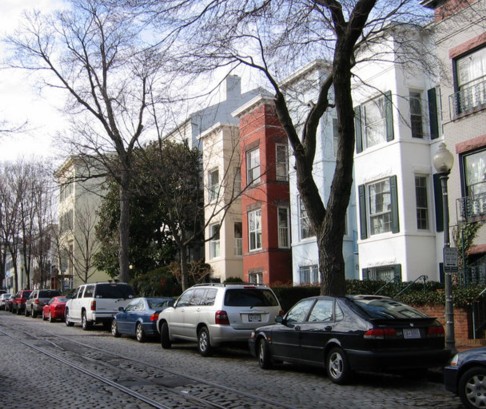 Washington DC condos and Penn Quarter
[showcaseidx_hotsheet name="washington dc homes"]

[showcaseidx_hotsheet name="Penn Quarter condos"]