North Springfield Virginia Real Estate, Homes for Sale, Remax, Lake Accotink
Scroll down to view the single family home listings!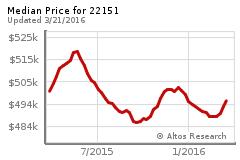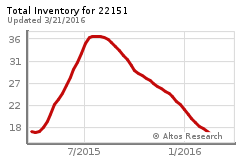 When it comes to household income, central Springfield Virginia real estate is one of the wealthier areas of the Washington DC metro cities.  The household income for Springfield real estate in 2003 was $107,000 compared with $93,614 for the greater Washington DC metro area.  And the projection for 2008 shows the area to have a household income of $131,181 compared to $114,522 for the greater Washington DC metro area.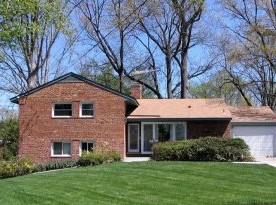 Springfield Virginia Home Prices, VA MLS, Statistics & Forecast
As mentioned, the unemployement rate fell to 2.4% in the last quarter of 2005 in Fairfax County real estate. All the job growth in recent years has made for sharply appreciating home prices. In what is referred to by realtors as North Springfield VA, home prices rose 25% in 2005 for Springfield. The median for all of Springfield was about 20% appreciation for 2005. Currently I live in this area and love it. The lots are mostly 10,000 sq. ft. and people seem to take pride in their front lawns. Also a lot of kids in the neighborhoods and some great churches nearby. To search the Springfield VA MLS click here and take advantage of the experience of Springfield Virginia Remax. In March 2007 in North Springfield real estate (22151) the median sold price was 14% lower than in March 2006 and the average list price for solds was down 6%. Thus it appears a correction occurred since the peak of 2005 and early 2006.
However the real estate correction for North Springfield VA is hardly over. The inventory in North Springfield has skyrocketed 40% in April 2007 versus 2006. Thus even with the 6-7% depreciation in prices from a year ago…the correction is not over by any means….
To find out how much your Springfield home is worth request a CMA online.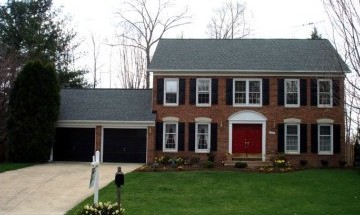 About Real Estate (wikipedia) in Springfield VA
As a suburb with a particularly transient population, there is little local culture in the area 's brief history. It is characterized by a genuine wealth of strip malls and plazas. Some of them are quite old and have been remodelled repeatedly over the decades due to their continuing economic viability. The area is popular for its affordable multi-ethnic cuisine, including Chinese, Mexican, Afghani, Vietnamese, Thai, and Indian eateries.
Springfield is also well known throughout the area for Fischer's Hardware, a large local hardware store with an almost anachronistic atmosphere that thrives by providing ubiquitous and highly knowledgeable customer service, informal referral relationships with other stores (including Home Depot), and by filling underserved niches. Other businesses indigenous to the area include Skirmisher Publishing LLC, a small game development and publishing company.
Currently (as of 2005), central Springfield in Fairfax County real estate is dominated by the over half-billion dollar Springfield Interchange highway project. The interchange is popularly known as The Mixing Bowl since it involves three interstates, has two exits less than a half mile away, has two unconnected roads going over or under one of the interstates less than a half mile away, and is further complicated by the presence of a separate, reversable HOV lane passing through the center of two of the interstates.
Springfield remains a conservative stronghold in increasingly left-leaning Northern Virginia. This may be due in part to the prevalence of military families living near Fort Belvoir and the highly commercial nature of the area.
North Springfield homes for sale