Condos in Tysons Corner and Real Estate, the Mall and Galleria, Nightlife
Tysons Corner condos for sale is a dynamic and bustling center of strip malls, car dealerships, office buildings and restaurants.  With over 25,000,000 square feet of office space and 4,000,000 of retail it is indeed a busy place.  The Tysons Corner Mall is one of the premier malls on the east coast and it is the reason many nonresidents have heard of the area.  It has actually been recognized as census designated place due to its community and prominence.  You can read more about the area with Wikipedia's entry on Tysons Corner.
So with all of the growth in recent years due to an expanding job market and tech companies that have come to the area, it is only follows that many condo projects have begun or recently been completed.  The benefits of Tysons Corner real estate and condos is the convenience of living within walking distance of your office and a high class mall with many high end restaurants and strip malls around.  Also another metro is supposedly going to be constructed there (I'll believe it when I see it) within a few years.  That will be a boost to property values no doubt.
Recently announced is a plan being presented to Fairfax County to create a mini-city of sorts which would expand the 2,000,000 square feet of Tysons Corner Mall to 5,500,000  that would add high rise (350 feet) apartments, condos and office buildings.  Along with those would be an ice skating rink, rooftop bar and performance space making for a pedestrian friendly community where cars would not be needed as one could hop on the metro (subway) to head into DC.  Click here to search for surrounding real estate of Northern Virginia real estate and condos.   To get a better feel of the market read about it on the real estate blog and ask questions there or at the contact form.
Real Estate and Condos at Tysons Corner -- Reserve at Tysons Corner
The mall at Tysons Corner Center brags such retail giants as Bloomingdales, Nordstrom, The Disney Store, Banana Republic, Old Navy, California Pizza Kitchen, Maggiano's, P.F. Chang's and the list goes on….If you want it you will find it at Tysons Corner Mall–although it will likely cost you a pretty penny compared to other retail centers.  The plan will be presented the 1st week of October 2006 and would take 10-15 years to complete.  Examiner.com notes, "Developer Macerich Co. plans to build four new office buildings, as many as 1,350 new homes, a 300-room hotel and some 200,000 square feet of retail space over a period of 10 to 15 years.
Also envisioned on the land is about 19.4 acres of public space, a sculpture plaza, water fountains and an ice rink, all of it buoyed by the construction of an elevated railline that will edge the mall."
Tysons Corner Mall & Nightlife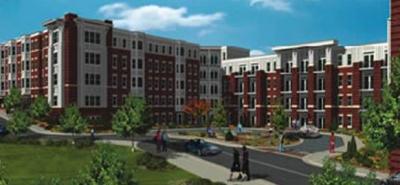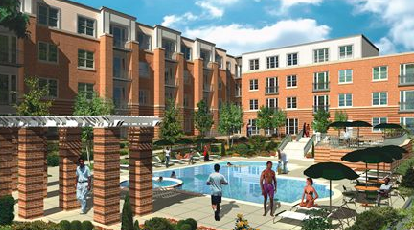 One of the projects under way is the Reserve at Tysons Corner by Beazer Homes that offer a great exercise room, granite countertops, 42″ flat screens and several designs from which to choose to match your personality.  Wireless internet will be in all the community areas such as the terrace overlooking the pool, etc.  It sounds like a winner.  Also included is "pocket park" with a fountain that is pet friendly.
Lofts at Park Center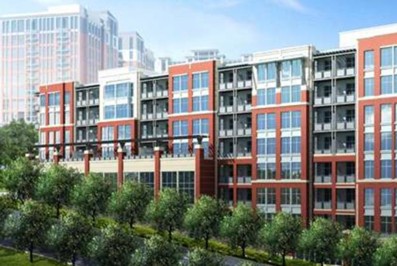 Another high class condominium that sounds like a great place to live.  The Lofts at Park Crest are one of seven buildings in this new city village.  The builder describes it, "The revolutionary Park Crest community is a walking village of luxury high-rise and loft homes, tree-filled green spaces, resort-style recreation amenities and shopping, all surrounded by Washington, DC, Dulles International Airport and the technology hubs of Northern Virginia."  It's location is extremely convenient and within a few minutes walking distance to high rise office buildings and the mall/galleria.
It boasts viking ranges, exposed ductwork, oversized windows, granite, stainless steel appliances as standard, lots of greenery/park areas and many 2 level floor plans–like a townhouse in the sky.  Perhaps its main highlight is a 60,000 sq. ft. gourmet grocery store an elevator ride away!
[showcaseidx_hotsheet name="tysons corner condos"]