Clarendon Condos for Sale at bottom
Jump to bottom for the listings pronto
Clarendon is perhaps the most iconic urban village of DC metro…located in Arlington, Virginia.  It is full of young professionals seeking night life combined with an easy commute to match their 60 hours a week work schedule 🙂  But they are surrounded with their peers and the area is loaded with diversity including different generations who thrive on the energy.  Every few weeks it seems like a new restaurant is opening for example.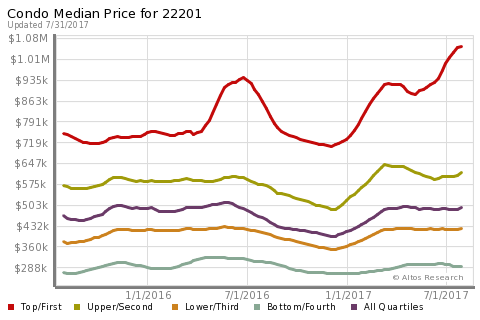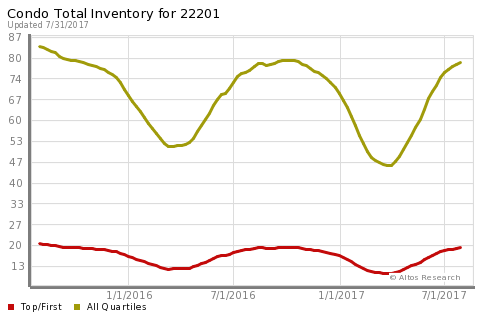 2013 update:
Summary of the clarendon condo for sale market
For all you buyers that are waiting for the bubble to burst, you better get on the next train/bus to Arlington because this market is serious. Sales are up 14% from March 2012 and 38% from this February. The inventory is down 15% from March 2012 and up 31% from this past February. So this would clearly be an indication of one of the strongest markets in the nation. We have seen more multiple offer situations and escalation clauses now than since 2005. Historically low interest rates and rising property values make it an ideal time to purchase your next home.
Quick update Clarendon condos under contract skyrocket....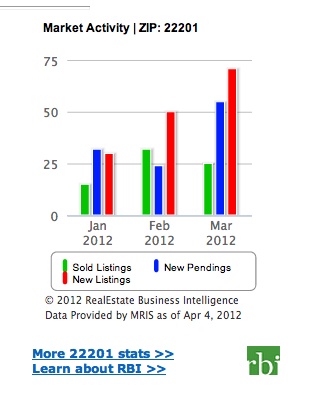 Market Data for Clarendon real estate
The Clarendon condos blog is where you get the latest market data and observations and analysis.  Take these graphs with a grain of salt since there are only several months of data from which to draw. Once there are 12 months of data the graphs will be more consequential to compare #s from a year ago.  Every year there are cycles of prices and DOM (days on market) that vary depending on the season.  So if you see some trends don't read too much into them.  The monthly fluctuations are a normal part of real estate.  Just click on the graph to get input on the market taking into account comparisons from a year ago at same time.  Look forward to your questions….And regarding the media sales price for condos in this chart it is likely that a whole set of upper end $ condos got listed in the month of May which distorts this chart a bit.
2011 has gotten off to a strong start for Clarendon condos and real estate in general in Arlington.  Many condominiums have experienced a 10% increase in market value from a year ago. Inventory is tight for orange line condos in niches such as courthouse, clarendon, and ballston.  So when the right listing comes on the market it's an opportunity a buyer doesn't want to miss as it could be awhile for a similar condo for sale to present itself.  Perhaps the hottest condo of all is Clarendon 1021.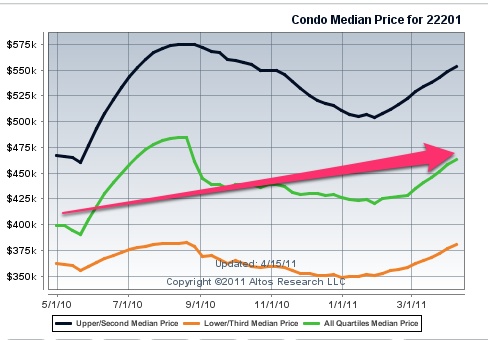 Clarendon VA is often thought of as the laid-back, cool kid in Arlington's class of Urban Villages. This is a place where t-shirts, baseball caps, and Volvos prevail over pin-stripe suits and BMWs. You will find a nightlife destination where people can have a tasty yet moderately priced dinner before heading to one of several local bars. Of course, Clarendon VA is much more than that. Not just a hip place to hang out after work, it also offers mid-sized office buildings near the Clarendon Metro station and safe, stable neighborhoods full of single-family homes and tree-lined streets, offering great opportunities to live and work, in addition to 'playing.'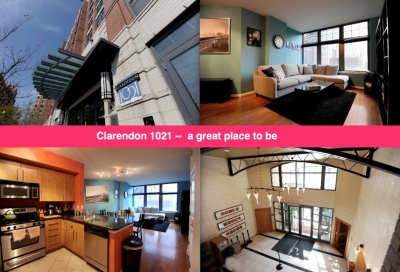 Clarendon VA plays host to businesses of all sorts and sizes, many of them with nationally recognized names. Gold's Gym is the destination of many a nine-to-fiver trying to keep fit, and the Clarendon Market Common shopping center just joined the retail market here, featuring a Barnes & Noble, Crate & Barrel, and Pottery Barn & Cheesecake Factory. But Clarendon VA is probably better known for its local, homegrown businesses. David Tax, owner of the Lazy Sundae ice cream parlor and the recently opened Big Belly Deli, stated simply – "It's a place where small businesses can thrive." This combination of local and national results in a shopping and retail scene that is quite varied and unique.  Another great example is Clarendon Ballroom and other bars that add to the nightlife scene.
The prevalence of small businesses also contributes to the strong sense of community that pervades the area and manifests itself through a variety of neighborhood organizations and special events. One such organization, The Clarendon Alliance, is a neighborhood association that unites residents with business owners, both local and national, to address community issues and concerns and to market the community. Regular events in the Clarendon VA area include a farmers market every Wednesday afternoon during the summer and a year-round antique and collectibles market on Saturdays. There is also an annual 5K race in the spring and the "Clarendon Day" festival in the fall. These other events reinforce the feeling of welcome and camaraderie that can be felt just spending an evening here. Joel Dabu, who has worked for the Clarendon Alliance for two years, may have put it best, saying that Clarendon VA is "like being in the city, but it's just more comfortable here."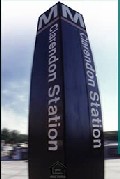 Clarendon Ballroom and Condos, Bars, Nightlife & Cheesecake Factory
Clarendon VA reputation for good food and lively bars is very well deserved, as people from throughout the DC metropolitan area come to the neighborhood to sample the ethnic restaurants. Favorites range from Chinese to El Salvadoran to the best Peruvian chicken you've ever had, but you can also find Japanese, Greek, Cuban, American, Barbecue, Moroccan and several Vietnamese eateries all within walking distance of the Metro Stop. Of course, people stay for the nightlife once they're here. Whether it's the laid-back atmosphere and local music at Iota or the Galaxy Hut, the faster-paced, better-dressed scenes at the Clarendon Ballroom or Mister Day's, or somewhere in between, like Whitlow's, there is fun to be had after dark in Clarendon VA.
With its comfort, community, and cuisine, it's no surprise then that the Clarendon VA is attracting more and more people. Newly constructed housing options are presenting more opportunities for prospective residents seeking to join in the fun. However, even as more people arrive, the locals tend to agree that Clarendon VA will be able to retain its unique individuality as a young, quirky, and exciting Urban Village.
You can search the walk to the clarendon metro condos here  Use 22201 as your zip code when you search.
Clarendon, Courthouse and Ballston Condo Listings
[showcaseidx_hotsheet name="clarendon condos"]
[showcaseidx_hotsheet name="clarendon condos"]