Annandale VA Real Estate, Annandale Virginia MLS, Seville Homes for Sale, Schools
Annandale VA real estate has a history dating back to 1685 when approximately 24,000 acres of land was purchased by Col. William H. Fitzhugh and converted into one of the larger tobacco plantations in Virgina.  The tract was known as Ravensworth.  His descendents slowly sold off parcels until Ravensworth was renamed Annandale in 1830 after the Scottish village located at the mouth of the Annan River.
There are several characteristics of Annandale Virginia real estate that differentiate it from much of northern va real estate.  The lots tend to be larger–often 15,000+ square feet and sometimes 25,000+.  Most cities in Fairfax County do not offer this.  Also it is one of the more heavily forested areas of fairfax county real estate.  And finally it is definitely quieter than much of Fairfax County real estate.  It is a very diverse community according to the 2000 census which one could say about most of northern Virginia.  That's one of the neat things about living in the DC metro area is the diversity–you can get food from all over the world from many cities in the Northern Virginia area.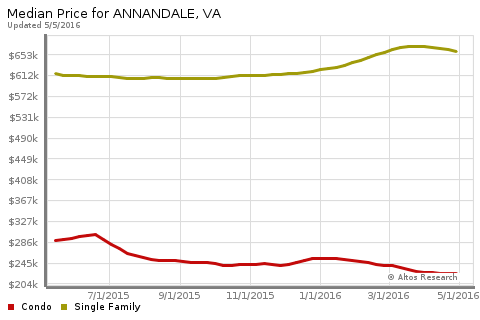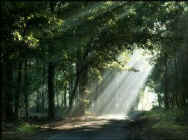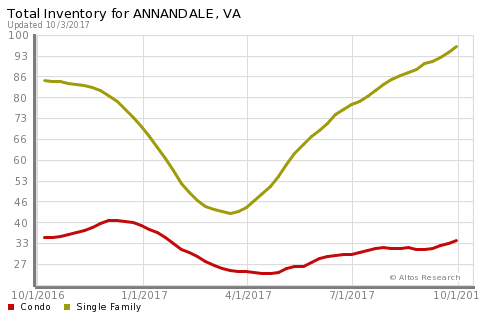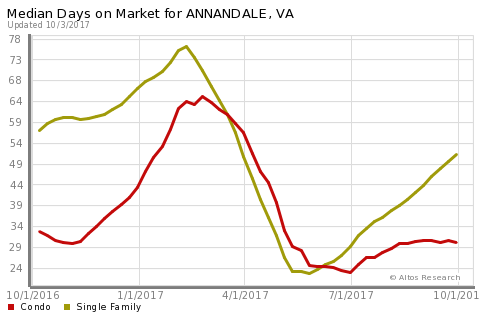 Annandale Virginia Real Estate, MLS, Seville Homes for Sale, Prices and Schools
Why has Annandale Virginia real estate been appreciating so rapidly in recent years?  The answer is jobs, jobs, jobs.  The average sales price of a home in Annandale Virginia real estate was $496,300 in 2005.  In 2005 the median home value appreciated 28.04% for Annandale Virginia real estate.  Another plus for homes in the area is the plurality of parks and bike/jogging trails.  If you're used to having space between you and your neighbor versus the 8000 or less square foot lots in most of Fairfax County real estate, then real estate in Annandale VA is for you.  For more info on the Fairfax County Public Schools click here.
Annandale VA MLS and real estate listings
And click here to read the wikipedia entry for Annandale VA information.
Annandale Virgina homes for sale